Chicago Chop House - Chicago
Chicago Chop House stands bright with its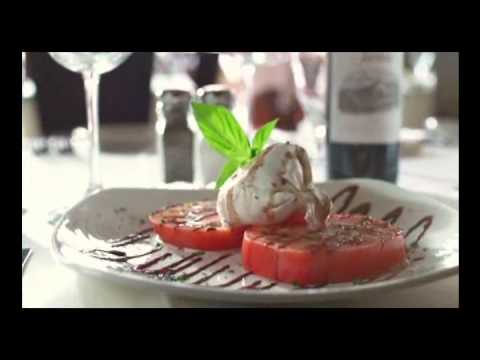 tall neon sign (picture the seemingly eternal Chicago Theatre marquee, only a tad smaller). The building, erected in 1887, carries the aura of old Chicago, a feeling that persists upon walking through the doors and entering the restaurant. Hunter green walls adorned with framed photos of Chicago's cultural, political, and celebrity icons; crisp white tablecloths with full place settings at each seat; a big, open bar; and servers dressed to impress but not overbear -- together, they beckon you to sit down, relax, stay a while, eat some marvelous meat.
The "Chicago Tribune's" 1987 review of Nortown's then-1-year-old restaurant shines a specific light on the bar at Chicago Chop House, observing that it "hearkens back to a forgotten age when people actually went out to do some serious drinking." Whether that sentiment remains true today is up to you, but you can make it happen (!) and no matter what your poison, you are sure to be served a fine piece of meat.
Here, the menu refrains from "cutesy descriptions," relying instead upon the straightforward approach of what's on the plate. Here, the soup du jour is always lobster bisque.
Their USDA prime steaks start with rib-eyes, and both short- and long-bone tomahawks can be ordered wet-aged, dry-aged, or Mishima. In fact, almost every cut is available in all three of these options, including the bone-in filet, Kansas City strip, New York strips, and center cut filets.
A rarely-seen steakhouse option, the Mishima cut has gained a reputation as the big Kahuna of beef at Chicago Chop House, one worth the visit all by itself. "Chicago Magazine," in addition to listing the restaurant as one of the top 10 steakhouses in Chicago, describes the meat from this Japanese cattle breed (one of six native breeds never cross-bred with Western cattle) as Kobe's "more exotic cousin" -- rich, marbled and nutty. Of the eight cuts available with Mishima, the magazine recommends the New York strip. Japan designated the Mishima as a national treasure in 1928, so get thee to the Chop House chip-chop!
The Porterhouse, on the other hand, is available in two sizes, either wet- or dry-aged. The Chateaubriand for two, drizzled in the namesake sauce of shallots, mushrooms, tarragon and white wine, round out the must-have red meat options. Other premium cuts include Berkshire pork chops, prime rib, and lamb Porterhouse.
Steakhouses do as steakhouses will: top off any steak with a small lobster tail or a half-pound of Alaskan king crab legs, or add a horseradish crust, peppercorn sauce, or creamy Boursin with grilled onions. Yes, you can also get saucy with Béarnaise.
From the sea, there are steakhouse classics like king crab legs and lobster tail alongside newfangled presentations of Chilean sea bass with tropical salsa and sweet potato fries and yellowfin tuna with kiwi wasabi. For sides, try the signature potato pancake or Russ's American Fries -- in reality, small baked potatoes pan-fried with garlic, onion, pepper, oregano and parsley -- or keep it classy with mushrooms, broccolini, and creamed spinach. Heck, indulge in something fancier while you're at it; you are at a steakhouse after all! One of the most discussed sides on travel sites like TripAdvisor is the four-cheese potatoes au gratin topped with applewood smoked bacon. It's a crowd pleaser, and it will please you, even if you're not part of the crowd.
Though the "Chicago Tribune" detailed the no-frills attitude of Chicago Chop House way back in 1987, that mantra still holds true today, starting right at the beginning of the meal.
Oysters Rockefeller, Maryland crab cakes, shrimp cocktail and jumbo diver scallops make up part of the appetizer menu. These days, the restaurant also offers calamari, Kobe beef carpaccio and lollipop lamb chops. You can order these à la carte or on platters for one, four, six or more! That last one is none other than the Grand Platter, a heaping assemblage of cocktail shrimp, crab cakes, diver scallops, calamari and yellowfin tuna.
Greens-wise, you can't go wrong with the Caesar, the house chopped salad or baby wedge, but when the season is right, balsamic-glazed tomatoes with fresh burrata and basil can surely touch the heart of even the most single-minded carnivore.
Icing on the cake, Chicago Chop House has garnered a number of awards from "Wine Spectator" and "Wine Enthusiast" for its wine list, over 600 deep.